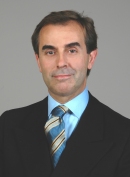 Dr. Pretolani received his MD Degree graduating with honors from the University of Bologna in 1980 and completed his post graduate training with honors degrees in Internal Medicine and Gastroenterology. He is specialied in Gastroenterology, Digestive Endoscopy, Internal Medicine, Emergency Hospital Management, Clinical Ultrasound Treatment and Research, Tumour Studies and Laser Ablation, Breath Test Analysis, Gastroenterology, Medical Statistical Analysis, Helicobacter Pylori and Viral Hepatitis (A, B, C, E) Research.
Since 1980 Dr Pretolani has worked in the Hospitals around Bologna and also abroad in America, England and France. After specialising in Gastroenterology and Digestiva Endoscopy he was appointed leading Doctor for the Emergency Department at the S. Orsola Hospital in Bologna. During the years 1991 - 1998 he was engaged as Consultant for the Ministry of Health and the Institute Sicurezza Sociale in the Republic of San Marino, 1991 al 1998. After several years in this department and having a particular interest in Internal Medicine and UltraSound, Dr. Pretolani accepted the role of leading Doctor in the Department of Internal Medicine at the Hospital Maggiore in Bologna.
During his career he has contributed to over 150 pubblications in Italian and foreign Medical Journals of which 23 were in international papers with a review committee (with Total Impact Factor : 37,398), 9 in national papers, 9 in international papers and 13 chapters in national books
From 1999 to 2000 he has been Assistant Editor for the Medical Journal Helicobacter, (edizione italiana, CIC edizioni Internazionali). he has been invited as relator or corelator to more than 50 Italian and Internazional Scientific Symposioms and Congresses dedicated to Internal Medicine, Emergency Hospital Medicine and Gastroenterology.

He has been distinguished as winner of 8 prizes and research Italian and International awards.
He has been a member and is a member of the following national scientific associations :
Società Italiana di Immunologia ed Immunopatologia (dal 1986 al 1991)
Club del Tenue (dal 1994 al 1999)
Gruppo Italiano Helicobacter pylori
(socio fondatore e Segretario Scientifico dal 1995 al 1999)
Società Italiana di Gastroenterologia ed Endoscopia Digestiva (dal 1985)
Società Italiana di Ultrasonologia in Medicina e Biologia (dal 1986)
Società Italiana di Medicina Interna (dal 1990)
Federazione delle Associazioni dei Dirigenti Ospedalieri Internisti (dal 2003).

He has been a visiting fellow in several international research centers such as :
1986: Immunology Department Charing Cross Sunley Research Centre, Charing Cross Medical School, London, (Dir. Prof. M. Feldmann) - malattia celiaca, linfociti T intraepiteliali e marcatori immunologici tessutali
1987 e 1988 Laboratoire d'Immunologie (Dir. Dr. J.M. Mencia-Huerta), Istituto Henri Beaufour e Unite'des Venins (Dir. Dr. B.B. Vargaftig, Institut Pasteur, Parigi)
(ruolo del PAF quale mediatore dell'infiammazione nella gastrite emorragica e nella m. peptica)
1989, 1992 e 1995 Laboratoire de Bactériologie. Università di Bordeaux,
(Dir. Prof. Francis Mégraud) (diagnostica dell'infezione da H. pylori, mediante microbiologia con coltura, sierologia con ELISA ed IMMUNOBLOT, e 13C urea breath test).
1994-95 Istituto di Patologia Medica (Dr. Natale Figura), Università di Siena e Istituto Biocine di Siena (Dir. Dr. Gino Rappuoli) per lo studio della risposta immune all'infezione da H. pylori citotossici (CagA) su siero e biopsie gastriche in pazienti con gastrite, ulcera e cancro gastrico.

He has also been the scientific secretary for the following Congresses :
The IV International Workshop on Gastroduodenal Pathology and Helicobacter pylori, Bologna 28-30 Novembre 1991, the XIII Workshop dell'European Helicobacter pylori Study Group (11-14 Ottobre 2000, Roma) and the V Congresso Nazionale della Federazione Italiana di Medicina d'Urgenza e Pronto Soccorso 1999.
Dr. Pretolani is currently working, teaching and researching at the Hospital Maggiore in Bologna Italy. When he is not consulting, researching or preparing presentations for Congresses he spends the rest of his time with his family.